Take your pick:
Choose the ZPS version that best fits your needs!
Get the oldie-but-goldie Zoner Photo Studio 18, or the new Zoner Photo Studio X with regular updates and a 161-page illustrated e-guide. The choice is yours, and you can't go wrong.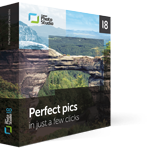 Zoner Photo Studio 18
Good for basic photo management and editing. An older, yet proven photo companion for everyone who wants to save a lot of money.
Non-destructive editing (for both RAW and other formats).
HD videos and secure photo sharing.
Technical support until June 2018 only.
No feature upgrades or updates (except security updates).
Missing the latest features (layers and masks, non-destructive Filter Brushes, Create module, and more).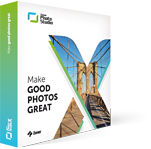 Zoner Photo Studio X
The best Zoner Photo Studio ever released! ZPS X offers the most advanced photo editing and management features.
Magical one-click Auto-enhance.
Supports layers and masks.
Non-destructive Brush Filter and Dehaze tool.
Perfect for advanced editing: Refine Selection, Dodge, and Burn tools.
Free 161-page illustrated e-guide to help you get started with ZPS X.
Free photo sharing over Pixbuf (a Premium account is worth $48/yr. – you get it free)
New features added regularly.
Priority support (via livechat, email, and phone).