Be a Star With Rating Stars

Sort large collections by quality fast
This tutorial has been created for an older version of Zoner Photo Studio. However, you can still follow its instructions in the latest Zoner Photo Studio X.
Imagine you are sorting your photos by quality using just Windows Explorer. Imagine that to make this work, you make an "Events" folder and below it, subfolders by picture quality. And then one for print-quality photos, and one for your grandma... what you're really making is a mess. Fortunately Zoner Photo Studio offers a much less messy way: photo ratings! Import some new photos from your camera, and let's get started.
Today You'll Learn:
How to rate photos by quality
How to add folders to the Catalog
How to speed up your work with shortcut keys
1) Save Your Time: Don't Delete Bad Photos
You may think of going through the folder first to delete bad photos. But if you really care about saving time, skip this step! Just give your worst photos the lowest rating. At the end you'll filter them out and mass-delete them.
2) Rating Photos
Right now you're probably in the Manager, with the Browser showing. The Browser's thumbnails are too small to really see your photos' quality, so switch to the Preview: click its button above the Browser.
In Preview, you see the picture in full detail, plus a filmstrip (a list of the other photos in the folder) at the bottom. To move among photos, use the right and left arrows. To rate a photo, just press a number key from 1 to 5. To remove its rating, press 0. Use the number keys above the keyboard for this. Note: Number-key rating shortcuts are only available in version 17.

Choosing Right
You can use any rating criteria you like. But you might want to use these criteria, which have worked well for us.

an unrated photo, ready for rating


a bad photo with technical problems, queued for deletion


no technical problems, but photo is bland... yet it might be useful someday


not a captivating photo, but still worth basic editing


one of the best photos in the album


one of the best photos in your archive, worth presenting officially
Once you've gone through all your photos, you can switch back to the Browser view. Now all of your pictures should have star ratings that reflect their quality.
3) How Do I Filter Photos?
Pictures that you rated one star are destined for deletion. To quickly filter (and then erase) them, use Quick Search. It's at the top left of the Browser. Note: Quick Search only works on cataloged folders.

Now it's time for the magic: click in the search box. This makes search controls pop out. Click the "equals" and the number of stars: 1. Click OK.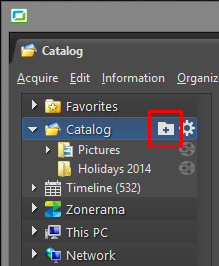 Help! Quick Search Doesn't Work!
Don't panic—the solution is simple. Quick Search is quick because it covers cataloged files only. Therefore, it is only active when you're in the "Catalog" section of the Navigator—the folder listing on the left. Also, it only searches in cataloged folders. To catalog a folder, click Add

above the Catalog.
Then select the folder with not-yet-cataloged pictures. Note that we catalog your Windows Pictures folder automatically! The added folder will then gradually be cataloged, opening it up to Quick Search. As a bonus for using the Catalog, your picture browsing will also be much faster.