Overlays: 14 New Reasons to Use Layers in ZPS X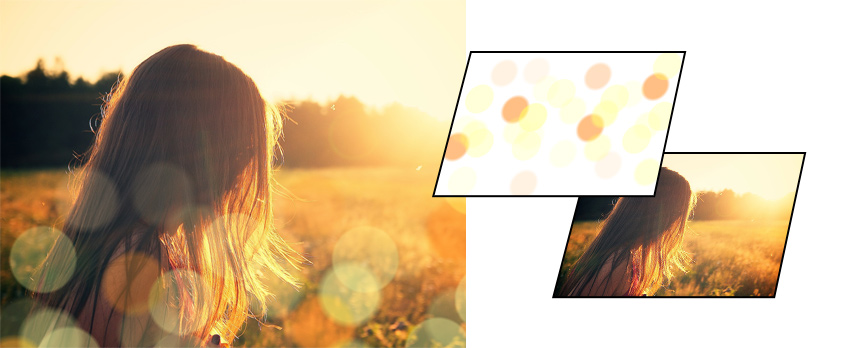 How Do You Use Your Free Overlays?
Today let's take a look at another of the many ways to create dazzling pictures thanks to layers. We'll be using overlay layers—overlays. An overlay is a second layer with a creative effect, like sparkling stars, feathers, bubbles, or flower petals. You can do things like move them around, resize them, make them partially transparent, or paste the same overlay twice to make it more vivid. These overlay layers can be edited just like the original layer, so every single tool in the Editor is open to you.
Want to do it yourself? No problem! Just click the button below and download our amazing overlays.
But let's go through it step by step:
Download the overlays.
Extract the .zip file somewhere on your computer.
Open your favorite picture in the Editor in ZPS X.
Click Add Layer > Paste from File and choose the overlay to apply.
Here it gets a bit tricky: for most pictures, you'll have to shrink this second layer. You may end up not being able to see it after that. If so, you'll have to zoom the image out until you can see this layer's frame.

The blue-white frame is the outline of the second layer—containing our overlay with the bokeh effect (the yellow circles on the picture)

If you're in the opposite situation, where the overlay is too small for your picture, then find another picture, or resize your picture to fit the overlay—the overlays don't look good when they're enlarged.

Once you you've shrunk the overlay and placed it where you want, just click Apply. And we're done!
For more natural results, try to work with your very best portraits, taken outdoors.
Definitely take a moment to read up on masking here if you're not familiar with it.
You can add several overlays to one picture and reposition them as needed.
You can experiment with the layer opacity setting to reduce the visibility of the overlay, like we did on the first picture below.
You can edit this added layer however you like. For example, to brighten the feathers overlay, you can raise the Exposure setting or paint over it with the Dodge brush. Or you can tint it using layer effects.
Here's another trick: add a new solid-color layer (you'll find them in the list for Add Layer), for example pink, change its Mode to Soft Light, and apply the overlay on top of that. We did this for the picture with the fairy.
Get inspired by our gallery of ideas for putting overlays to work: