Zoner Photo Studio X Brings the Future of Image Storage
HEIF format stores photos at better quality in less space
Everyone knows the JPEG format. But by now it's over 25 years old, and it's showing. HEIF is a new format that works much better—your photos need much less space to look just as good or better.
So how would it sound to store your photos in less than half the space?

What is HEIF?
The advantage of HEIF over the older JPEG is a significantly smaller file size with comparable quality (or higher quality while keeping the same size). HEIF is, put simply, an image file format in which the picture is encoded using the modern HEVC codec. Thanks to this, it compresses photos superbly.
HEIF is the new default format for new iOS and macOS devices and you can also view it in Google Photos.
Great for photos
Powerful compression (HEVC)
Hardware acceleration
Transparency support
Both lossy and lossless variants
Metadata support
Cropping and rotation support
Standardized format
Efficient storage of series and panoramas
See for Yourself!
We saved these photos to JPEG and HEIF in Zoner Photo Studio X.
Click the picture to dowload the original file.
The picture on the left was stored in JPEG, and the one on the right in HEIF. The quality is similar, but HEIF takes up much less space.
Two similar crops. The one on the left, in JPEG, takes up 365 kB; the one on the right, in HEIF, takes up 215 kB. As you can see, you can't see a difference.
I want to try HEIF!
Zoner Photo Studio X will be first Windows photo software to bring HEIF support. We are currently completing the last steps before releasing our version with HEIF support.
Would you like to be among the first to edit HEIF photos on Windows?
Thank you for signing up!

What is Zoner Photo Studio X?
ZPS X is the best Windows software for your photos. It handles everything from downloading your photos to organizing them to producing breathtaking edits. It can handle layers, non-destructive RAW editing, retouching, and automatic adjustments. It's no greenhorn! It's been a reliable aid to photographers for over 20 years. But that doesn't mean it has nothing new to offer—it's soon to be the first Windows photo editor to support the HEIF format. And the best part is, you can try it for free!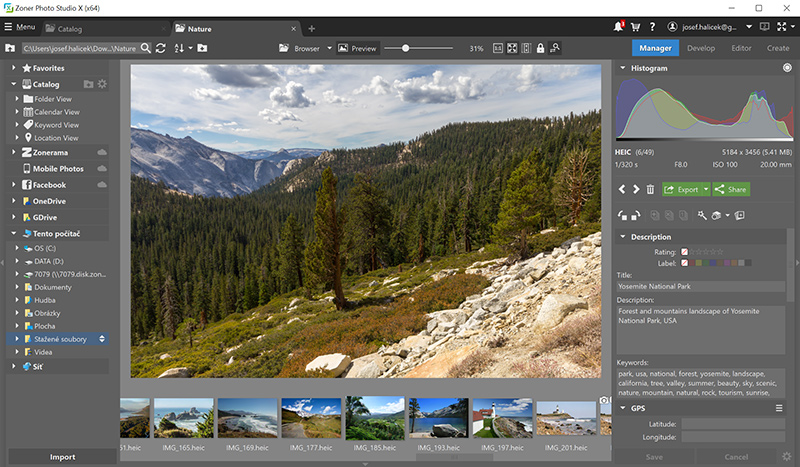 © 2017 Zoner, Inc. – All images were saved in Zoner Photo Studio X, and a crop from them was then stored in PNG to enable you to compare them on the Web. Zoner Inc., the developer of Zoner Photo Studio X, is not the creator of the HEIF format, nor the HEVC codec. Apple, Mac, and macOS are trademarks of Apple Inc., registered in the U.S. and other countries. IOS is a trademark or registered trademark of Cisco in the U.S. and other countries.