System Requirements
Get 100% Performance for Your Photos

Zoner Photo Studio uses the full power of today's processors and graphics cards.
That makes demanding graphics operations lightning-fast compared to the competition.
Everything You Need for Your Pictures
Only Zoner Photo Studio gives you a first-class photo processing tool and maximum color fidelity for your pictures.
Support for 4K monitors
Support for high DPI on small monitors
Support for 10-bit displays
Integrated color management
Support for drawing tablets, including pen pressure
Optimizations for touch-based operation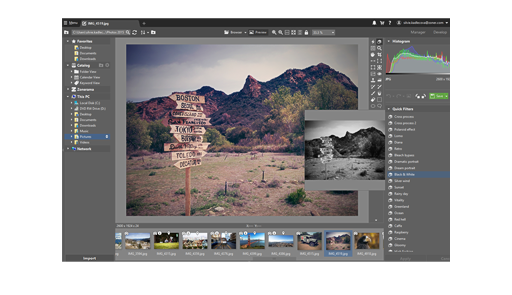 Minimum System Requirements
For smooth operation, Zoner Photo Studio 18 needs a computer meeting these system requirements:
OS: Microsoft Windows 7 / 8 / 8.1 / 10 (32 or 64 bits)
Processor: Intel or AMD with SSE2 support
Memory: 2 GB RAM
Hard Disk: min. 350 MB free disk space
Resolution: 1200 × 800 and up
Recommended System Requirements for Zoner Photo Studio 18
A computer meeting these requirements guarantees easy work in Zoner Photo Studio 18. These are not the minimum system requirements.
Processor (CPU)
We recommend a 64-bit, 4-core processor running at 3GHz or higher. This software is fully optimized for work with multi-core processors.
Graphics Card (GPU)
Zoner Photo Studio uses the full power of your graphics card thanks to CUDA and OpenCL.

Graphics card memory is important for work with large photos. We recommend at least 2 GB of graphics card memory.

Two examples of suitable graphics cards as of September 2015 are the AMD Radeon R9 and the NVidia GeForce 750 GTX Ti.
Memory
We recommend at least 4 GB of memory.
Hard Disk
We recommend installing ZPS on an SSD drive. This will make it load and run very fast. The SSD disk market is still developing rapidly, so check the latest reviews to make your choice.
Operating System
Use a modern, 64-bit operating system to harness the full power of the recommended 64-bit CPU.
Supported Formats
Bitmap Formats
JPEG, GIF, TIFF, PNG, PSD, PSB, PCD, BMP, PCX, TGA, ICO, RLE, WPG, DIB, BMI, PSP, PSPIMAGE, THM, HDP, WDP, JP2, J2K, JPC, PNM, PPM, PAM, PBM, PGM, WBMP, BMS, JPS, PNS, DCM, KDC, MPO, JXR, HDR
RAW Formats
CRW, CR2, DNG, MRW, NEF, ORF, PEF, ARW, SRF, SR2, MEF, ERF, RAW, RAF, FFF, RWZ, RWL, 3FR, CS1, SRW
Expand the range of readable formats by installing extra WIC codecs (e.g. WebP).
Video Formats
ASF, AVI, M1V, MOV, MP4, MPE, MPEG, MPG, MTS, OGV, QT, WMV
Install the third-party program MPlayer to add support for the following formats:
3GP, DIVX, DV, DVR-MS, FLV, M2T, M2TS, M2V, M4V, MKV, MPV, MQV, NSV, OGG, OGM, RAM, REC, RM, RMVB, TS, VCD, VFW, VOB
Hardware Compatibility
Zoner Photo Studio can talk to the other devices that you use for work with your photos. Zoner Photo Studio can download photos from any memory card or removable disk. Naturally it's also compatible with drawing tablets and touchscreen monitors.
Camera Support
Shooting to JPEG? Then there's nothing to worry about at all—Zoner Photo Studio can handle all your photos.
Shooting to RAW? Zoner Photo Studio automatically supports a wide range of the RAW formats produced by DSLRs and midrange cameras. If your camera is on the list, you can edit RAW in ZPS immediately. If your camera is not on the list, then install Adobe DNG Converter to add support for developing RAW files from your camera. Likewise, use Adobe DNG Converter to support cameras that save pictures to DNG.
Canon EOS M
Canon EOS M3
Canon EOS 5DS
"Canon EOS 5DS R
Canon EOS 1DX
Canon EOS-1Ds Mark III
Canon EOS-1Ds Mark II
Canon EOS-1D Mark IV
Canon EOS-1D Mark III (+sRAW)
Canon EOS-1D Mark II N
Canon EOS-1D Mark II
Canon EOS 5D Mark III
Canon EOS 5D Mark II (+sRAW1, +sRAW2)
Canon EOS 5D
Canon EOS 6D
Canon EOS 7D (+sRAW1, +sRAW2)
Canon EOS 7D Mark II
Canon EOS 10D
Canon EOS 20D
Canon EOS 20Da
Canon EOS 30D
Canon EOS 40D (+sRAW)
Canon EOS 50D (+sRAW1, +sRAW2)
Canon EOS 60D (+mRAW, +sRAW)
Canon EOS 70D
Canon EOS 100D/REBEL SL1
Canon EOS 300D/DIGITAL REBEL/Kiss Digital
Canon EOS 350D/DIGITAL REBEL XT/Kiss Digital N
Canon EOS 400D/DIGITAL REBEL XTi/Kiss Digital X
Canon EOS 450D/DIGITAL REBEL XSi/Kiss Digital X2
Canon EOS 500D/REBEL T1i/Kiss X3
Canon EOS 550D/REBEL T2i/Kiss X4
Canon EOS 600D/REBEL T3i/Kiss X5
Canon EOS 650D/DIGITAL REBEL T4i/Kiss X6
Canon EOS 700D/REBEL T5i
Canon EOS 750D/REBEL T6i
Canon EOS 760D/REBEL T6s
Canon EOS 1000D/DIGITAL REBEL XS/Kiss Digital F
Canon EOS 1100D/REBEL T3/Kiss X50
Canon EOS D30
Canon EOS D60
Canon PowerShot G1 X
Canon PowerShot G3 X
Canon PowerShot G1
Canon PowerShot G2
Canon PowerShot G3
Canon PowerShot G5
Canon PowerShot G6
Canon PowerShot G7 X
Canon PowerShot G9
Canon PowerShot G10
Canon PowerShot G11
Canon PowerShot G12
Canon PowerShot G15
Canon PowerShot G16
Canon PowerShot Pro1
Canon PowerShot S30
Canon PowerShot S40
Canon PowerShot S45
Canon PowerShot S50
Canon PowerShot S60
Canon PowerShot S70
Canon PowerShot S90
Canon PowerShot S95
Canon PowerShot S100
Canon PowerShot S110
Canon PowerShot S120
Canon PowerShot SX1 IS
Canon PowerShot SX50
Canon PowerShot SX60 HS
Canon EOS-1DS
Canon EOS-1D
Fujifilm FinePix F600EX
Fujifilm FinePix F770EXR
Fujifilm FinePix F800
Fujifilm FinePix S100FS
Fujifilm FinePixS2PRO
Fujifilm FinePix S3PRO
Fujifilm FinePix S5PRO
Fujifilm FinePix S200EXR
Fujifilm FinePix S205EXR
Fujifilm FinePix S9500
Fujifilm FinePix S9000
Fujifilm FinePix S9600
Fujifilm FinePix S9100
Fujifilm FinePix S7000
Fujifilm FinePix S6500fd
Fujifilm FinePix S5600
Fujifilm FinePix S5200
Fujifilm FinePix S5100
Fujifilm FinePix S5000
Fujifilm FinePix SL1000
Fujifilm FinePix HS10 HS11
Fujifilm FinePix HS20
Fujifilm FinePix HS30EXR
Fujifilm FinePix HS50EXR
Fujifilm FinePix X100
Fujifilm X100T
Fujifilm X10
Fujifilm X20
Fujifilm X30
Fujifilm X-S1
Fujifilm X-E1
Fujifilm X-T1
Fujifilm X-Pro1
Fujifilm XF1
Fujifilm X-A2
Fujifilm XQ2
Leica D-LUX 4
Leica D-LUX 5
Nikon D7000
Nikon D7100
Nikon D7200
Nikon D5000
Nikon D5100
Nikon D5200
Nikon D5300
Nikon D5500
Nikon D3S
Nikon D3
Nikon D4
Nikon D4S
Nikon Df
Nikon D300
Nikon D300S
Nikon D600
Nikon D610
Nikon D700
Nikon D750
Nikon D800, D800E
Nikon COOLPIX P330
Nikon COOLPIX P6000
Nikon COOLPIX P7000
Nikon COOLPIX P7100
Nikon COOLPIX P7700
Nikon COOLPIX P7800
Nikon COOLPIX A
Nikon D90
Nikon D100
Nikon D200
Nikon D2Xs
Nikon D2X
Nikon D2H
Nikon D1X
Nikon D1
Nikon D80
Nikon D70
Nikon D70s
Nikon D3000
Nikon D3200
Nikon D3300
Nikon D3X
Nikon D50
Nikon D40x
Nikon D40
Nikon D60
Nikon D3100
Nikon 1 AW1
Nikon 1 J1
Nikon 1 J2
Nikon 1 J3
Nikon 1 S1
Nikon 1 V1
Nikon 1 V2
Olympus C5050Z
Olympus C5060WZ
Olympus C7070WZ
Olympus C8080WZ
Olympus SP550UZ
Olympus SP350
Olympus SP500UZ
Olympus SP510UZ
Olympus SP570UZ
Olympus E-620
Olympus E-600
Olympus E-520
Olympus E-510
Olympus E-500
Olympus E-450
Olympus E-420
Olympus E-410
Olympus E-400
Olympus E-330
Olympus E-300
Olympus E-P1
Olympus E-P2
Olympus E-P3
Olympus E-P5
Olympus E-PL1
Olympus E-PL2
Olympus E-PL3
Olympus E-PL5
Olympus E-PL7
Olympus E-PM1
Olympus E-PM2
Olympus E-30
Olympus E-20,E-20N,E-20P
Olympus E-10
Olympus E-3
Olympus E-1
Olympus E-5
Olympus E-M1
Olympus E-M5
Olympus E-M5 Mark II
Olympus E-M10
Olympus XZ-1
Olympus XZ-10
Olympus XZ-2
Olympus Stylus 1
Olympus SH-2
Panasonic DMC-FX180
Panasonic DMC-FX150
Panasonic DMC-FZ28
Panasonic DMC-FZ38
Panasonic DMC-FZ35
Panasonic DMC-FZ45
Panasonic DMC-FZ40
Panasonic DMC-FZ100
Panasonic DMC-FZ150
Panasonic DMC-FZ200
Panasonic DMC-FZ330
Panasonic DMC-TZ70
Panasonic DMC-G1
Panasonic DMC-G10
Panasonic DMC-G2
Panasonic DMC-G3
Panasonic DMC-G5
Panasonic DMC-G6
Panasonic DMC-GF1
Panasonic DMC-GF2
Panasonic DMC-GF3
Panasonic DMC-GF5
Panasonic DMC-GF6
Panasonic DMC-GF7
Panasonic DMC-GH1
Panasonic DMC-GH2
Panasonic DMC-GH3
Panasonic DMC-GH4
Panasonic DMC-GM1
Panasonic DMC-GM5
Panasonic DMC-GX7
Panasonic DMC-GX8
Panasonic DMC-LF1
Panasonic DMC-LX3
Panasonic DMC-LX5
Panasonic DMC-LX7
Panasonic DMC-ZS40
Panasonic DMC-LX100
Pentax K10D
Pentax K20D
Pentax K100D
Pentax K100D Super
Pentax K200D
Pentax *ist DL
Pentax *ist D
Pentax *ist DS
Pentax K-3
Pentax K-5
Pentax K-5 II
Pentax K-5 IIs
Pentax K-7
Pentax K-m
Pentax K-r
Pentax K-x
Pentax K-S1
Samsung EX1
Samsung EX2F
Samsung NX10
Samsung NX11
Samsung NX30
Samsung NX100
Samsung NX200
Samsung NX20
Samsung NX210
Samsung NX500
Samsung NX1000
Samsung NX3000
Sony DSC-RX1
Sony DSC-RX10
Sony DSC-RX10 II
Sony DSC-RX100
Sony DSC-RX100 II
Sony DSC-RX100 III
Sony DSC-RX100 IV
Sony DSLR-A200
Sony DSLR-A230
Sony DSLR-A290
Sony DSLR-A300
Sony DSLR-A330
Sony DSLR-A350
Sony DSLR-A380
Sony DSLR-A390
Sony DSLR-A450
Sony DSLR-A500
Sony DSLR-A550
Sony DSLR-A560
Sony DSLR-A580
Sony DSLR-A700
Sony DSLR-A850
Sony DSLR-A900
Sony NEX-5
Sony NEX-5N
Sony NEX-5R
Sony NEX-5T
Sony NEX-3
Sony NEX-3N
Sony NEX-C3
Sony NEX-F3
Sony NEX-6
Sony NEX-7
Sony SLT-A33
Sony SLT-A35
Sony SLT-A37
Sony SLT-A55V
Sony SLT-A57
Sony SLT-A58
Sony SLT-A65V
Sony SLT-A77V
Sony SLT-A99
Sony Alpha A7 (ILCE-7)
Sony Alpha A7 II (ILCE-7M2)
Sony Alpha A7R (ILCE-7R)
Sony Alpha A7R II (ILCE-7RM2)
Sony Alpha A7S (ILCE-7S)
Sony Alpha A3000 (ILCE-3000)
Sony Alpha A5000 (ILCE-5000)
Sony Alpha A5100 (ILCE-5100)
Sony Alpha A6000 (ILCE-6000)
Sony ILCE-QX1