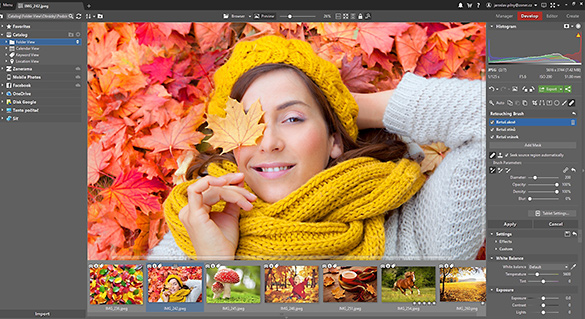 ZPS X Autumn
2017 Update
In the fourth ZPS X update—on its first anniversary—two blockbusters await you: adjustment layers and a non-destructive retouching brush. We have a good dozen improvements for you, and ZPS X is the first in the world to provide several of them.
Even if you've already tried ZPS X, you'll get 10 fresh new days to explore the new features.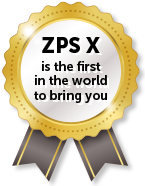 Improve your retouching with a unique new brush
The Develop module now includes a retouching brush, in full splendor:
The brush automatically finds the source area for retouching.
You can make every brush stroke (or group of them) on a separate mask.
This lets you clearly organize your work into e.g. retouching of shadows, birthmarks, or wrinkles.
You can always revert or delete all of these retouching edits.
For details, see a thorough tutorial at learn.zoner.com.
The combination of masks and multiple strokes within each one is unique worldwide. You'll only find it in ZPS X!
Edit faster with adjustment layers
Adjustment layers will help you pick the best edit quickly and easily. Just place the adjustment you want (exposure, white balance, etc.) in its own layer. This layer affects the layer, or layers, below it. So you can adjust multiple layers at once. This also rids you of the often tiresome job of duplicating layers, editing them, and then comparing them.
How shall I use the Adjustment Layers?
Set your memories in motion with video
Include video and add photos and music, and you've got a great video presentation from your vacation or celebration in minutes. The ZPS X video creation tool has matured to become a reliable helper for sharing your experiences.
How shall I use the Video Editor?
Be a step ahead—create great photos with tools you won't find elsewhere:
Try out Zoner Photo Studio X free for 7 days and with no obligations!
FREE DOWNLOAD

Supports Windows 10.
With a drawing tablet, you've got ZPS X under your thumb

We have a treat in store for those of you with drawing tablets. ZPS X now supports pen pressure in both the Editor and Develop. So you can use your tablet for non-destructive brush edits as well. ZPS X is also first in the world to let you adjust up to four settings with a single application of pressure, making your work easier than ever before.
You've got a clearer way to print contact sheets

We've simplified your work with contact sheets. In the new editor, you can see real photo previews right from the start. You also can make use of our templates with the most commonly used layouts.
Other improvements

In ZPS X, you can newly work with online-only files on OneDrive

In adjustment layers, the eyedropper for Curves can change a curve right inside a picture via dragging up/down

Better display of brush blurring borders

Support for RAW files from the Nikon D7500, Canon 6D Mark II, Canon 200D and other cameras

Quicker initial loading of picture-heavy folders

Support for 14-bit RAW files from selected camera models

Support for tracklogs with no altitude data

Masks:
Shift + left-click disables a mask Alt + left-click previews a mask