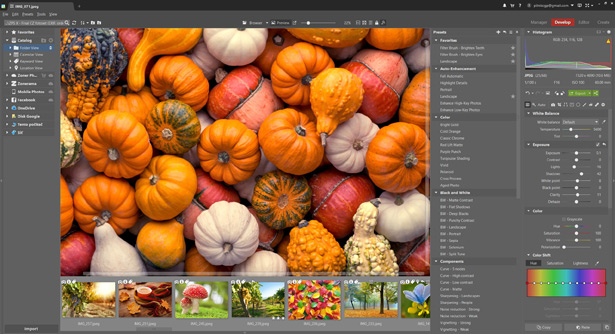 ZPS X Autumn
Update 2018
Now when you're creating videos, you can work with multiple audio and image tracks, mix them however you'd like, and export your results in up to 4K resolution. You can also organize presets into your own folders, and above all import and export them. And we've also improved Zoner Photo Cloud. Check the gift lower at the page!
Even if you've already tried ZPS X, you now have 10 more days to check out the new features:
A New Video Making Tool
In the new video editor, you can work with multiple video and audio tracks, mix them together, add titles, and more.


automatic clip snapping,

resolution of up to 4K (requires Windows 10)

support for 60 frames per second

HEVC export supported—up to 50% disk space savings (requires Windows 10)
Importing and Exporting Presets
You can now work with presets (stored settings from the Develop module) more conveniently than ever before—you can now import them and export them, letting you share them with other photographers. Share your great presets for fall landscapes or for portraits!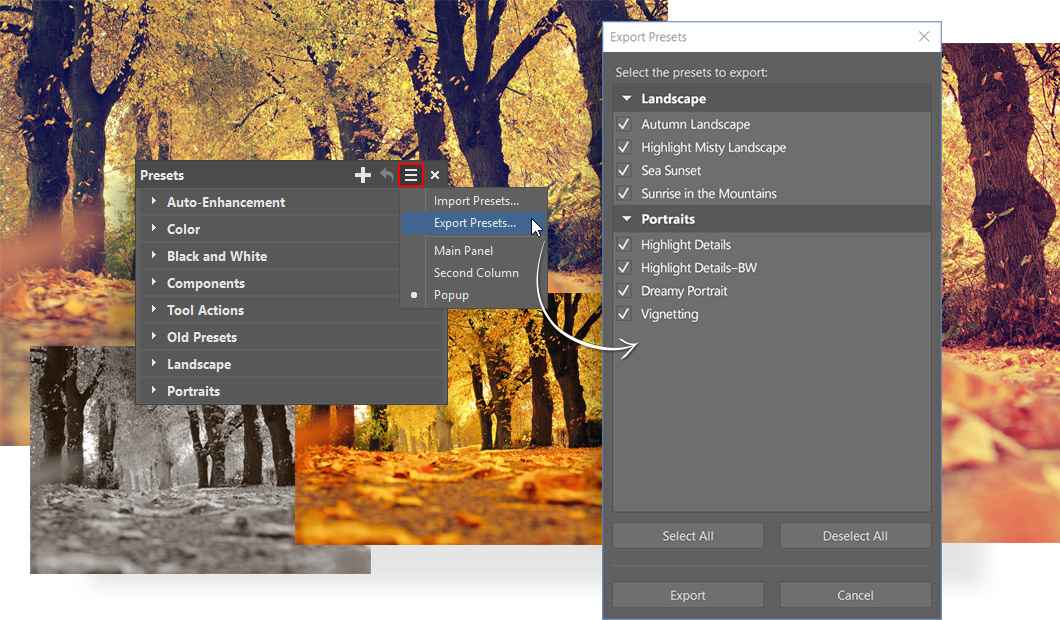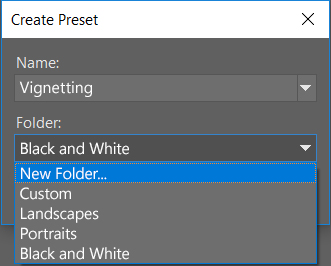 Organizing Presets
Besides import and export, you can newly organize presets freely into folders. That makes your work with them faster and clearer than ever before. You can create sets of presets e.g. for landscapes, portraits, street photography and more... The sky's the limit!
A Gift for You—Downloadable Preset Packs
On the occasion of the Autumn Update, we've prepared an entirely new set of "forest" presets for you that you can easily import into your ZPS X. Enjoy them!
Download
your ZPS X preset pack
How Do I Install My Preset Pack?
Download the presets onto your computer.

Start ZPS X.

Switch into the Develop module.
Open the Presets tab .

Click on Menu.

Click on Import Presets....
Select the file named Forest_pack.presets and click on Open.

Choose the presets that you want to import and the folder where you want to store them.

You're done! You can start discovering which presets you like the most.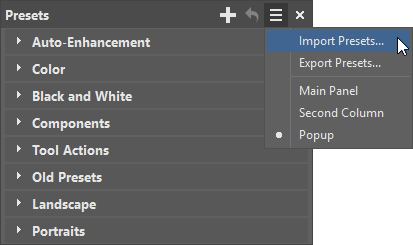 Connect Zoner Photo Cloud With the Catalog
You can now add ZPC to the Catalog in just a few clicks, so that you can enjoy all the advantages that this "heart" of Zoner Photo Studio delivers—quick thumbnail loading, searching, offline browsing, and more.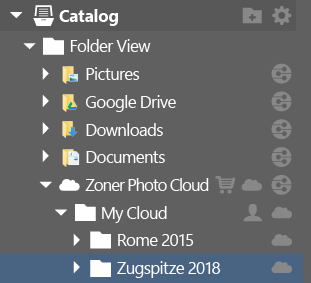 How Do I Hook Up ZPC?
Click the gear icon by the Catalog
Click on and confirm.
TIP: Don't forget that every Zoner Photo Studio user has 5 GB free on Zoner Photo Cloud. For more details, see our ZPC web page.
Be a step ahead of the rest and make photos great faster
and more efficiently than before:
Download Zoner Photo Studio and try it free for 7 days with no obligations!
Free Download

Supports Windows 10.