An online place for your photo collection, available from directly inside of Zoner Photo Studio X
Now Even More Space for Free
We've raised the Basic plan's capacity from 5 to 20 GB.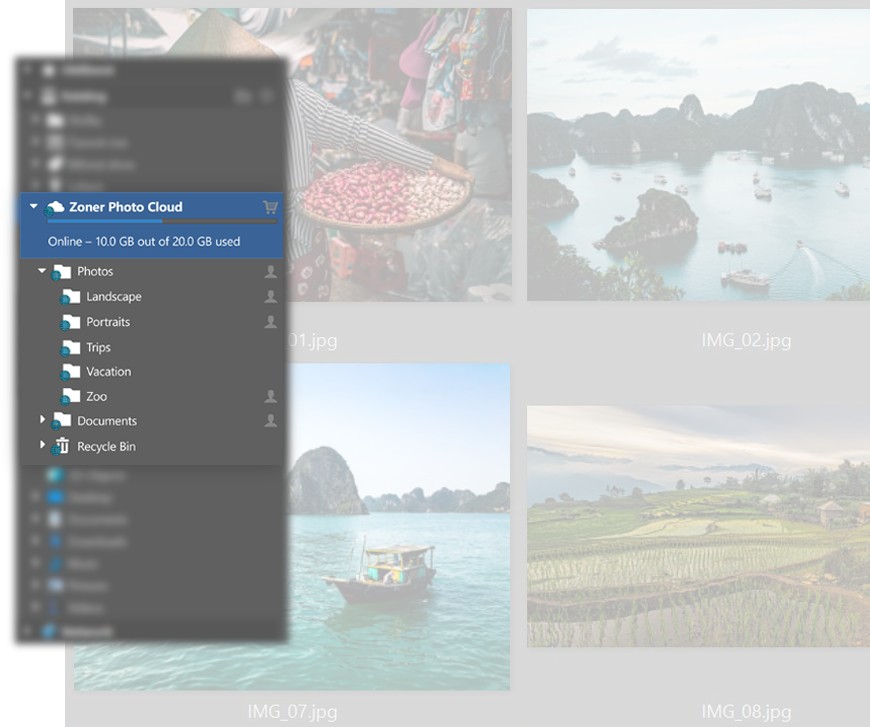 Online storage straight from inside of Zoner Photo Studio X
You'll find Zoner Photo Cloud right inside of Zoner Photo Studio X—it's in the Navigator. You can work with this online storage point just as quickly and easily as you would with any other data source.

Every ZPS X user gets the basic plan (20 GB of space) for free!
Photos, Videos, Documents—Anything
Just like Zoner Photo Studio X, Zoner Photo Cloud works best with photos, but you can upload files in any format—from videos to documents. Your plan's maximum capacity is your only limit.
You can add ZPC to the Catalog in just a few clicks, so that you can enjoy all the advantages that this "heart" of Zoner Photo Studio delivers—quick thumbnail loading, searching, offline browsing, and more.
Your Data's Security Is Our Top Priority
All data transfers are encrypted and secured using SSL certificates against eavesdropping. Our authentication uses time-limited tokens to meet the highest standards for safety.

Your data is available only in Zoner Photo Studio X, and only to you—unless you share it with other users. That prevents data leaks through third-party applications and the abuse of your data by ransomware.

Naturally your cloud includes a Recycle Bin to protect your data from unwanted deletion; it can hold deleted files for up to 30 days.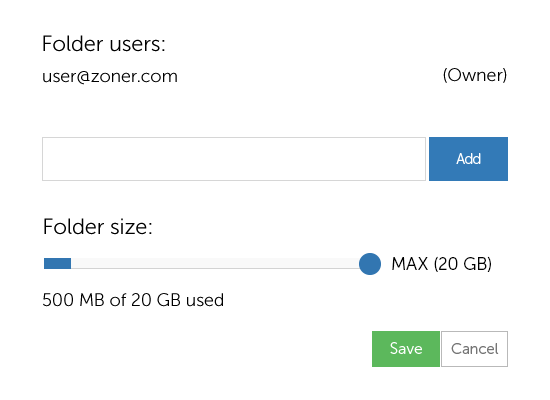 Easy Cooperation in Families, Teams, and More
You can easily share the folders on your Zoner Photo Cloud with other Zoner Photo Studio X users. That makes it simple to create family albums that are truly there for your whole family. Or to share photos among a small team at work.
Non-destructive Photo Editing
You can edit photos on Zoner Photo Cloud non-destructively from right inside of the Develop module in ZPS X. Your edits are stored to separate files, keeping your edited photos available directly inside of Zoner Photo Studio.
Your data isn't needlessly duplicated, and you save space on your cloud.

Your Data Is in Good Hands
Your data is processed through a sophisticated system with multiple backups.
It's physically present on our servers, with serious protection and security. These servers are in the care of our sister division, Czechia—a leading European operator of web and cloud services with over 20 years of experience.
Choose a Plan That Meets Your Needs
Monthly prices:
up to 20 GB
$2.49
FREE for
ZPS X users
up to 50 GB
$4.99
up to 200 GB
$9.99
up to 500 GB
$14.99
up to 1 TB
$19.99
> 1 TB
by agreement
Buy your plan directly from inside of Zoner Photo Studio X


Access from your ZPS X

Your whole photo collection in the cloud

Plenty of plans to choose from