What's New in Zoner Photo Studio 17?
Not coming from Zoner 16? Take a look at our comparison chart.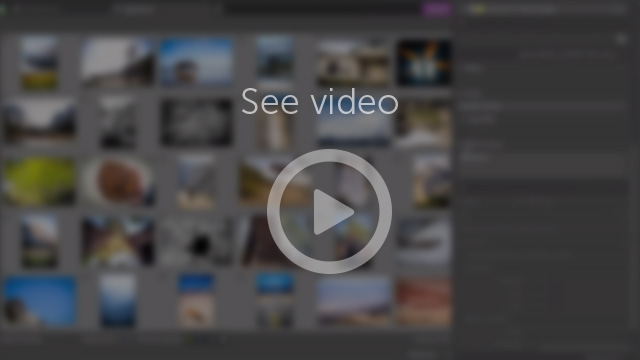 Exposure Gradient Filter
Let both your skies and your landscapes shine, with no loss of detail.
Smart Automatic Edits
Use the Editor's new Automatic button to set up a great look in one click—and fine-tune it from there.
More Muscle for RAW Exposure Edits
Improved control over exposure, shadows, light, curves, and clarity.
Great RAW Previewing
Your changes to RAW files show up in the Manager and in all previews immediately.
Faster
Photo Import
Your camera's photos now load lightning-fast. And you can tag and rename pictures right as you're importing them!
Better
Browsing
The improved Catalog indexes all your photos automatically, making your work lightning-fast.
New Ways
to Get Creative
Give your photos lens flare, make them look like comics with the Cartoon filter, or experiment with a high-pass filter. You'll find it all in the Editor.
Stamp Out
Duplicates
Get rid of pointless extra copies that just eat up space. Use the new Duplicates tool to easily find and handle identical files.
Keyword
Hinting
Tag your pictures faster. Hinting makes keyword-tagging your photos a breeze.
Powerful Previews
While You Browse
Check your pictures in a souped-up Preview pane next to the Browser. Zoom and pan it, and preview blowout whenever you need.
Easier
Photo Rating
Rating photos is simpler than thanks to simplified shortcuts and easy-to-read star ratings.
Your Photos
in Your Living Room
Share your photos on any DLNA device in your network—your phone, TV, tablet, or another computer.
And Much More!
Easier Work
with Your Photos
With our new simplified look, your photos are the star of the show.
Multi-photo
Information
You can now see summary information when you have multiple photos selected.
LCP Profile Correction
for Lens Defects
Our new LCP profile support helps you automatically correct lens defects.
More Responsive
on Networks
New optimizations make your work with photos on networked storage up to 35% faster.
---


© 2015 Zoner Inc.
Windows and Vista are registered trademarks of Microsoft Corporation in the United States and other countries.
Android is a trademark of Google, Inc.
Intel and Pentium are trademarks of Intel Corporation in the United States and other countries.